108 Names of Lord Hanuman
In Hinduism Lord Hanuman, the well-known monkey god, can be seen in temples throughout the country. Lord Hanuman is one of the biggest devotee of Lord Ramachandra who was aided in Lord Rama expedition against evil forces, is one of the most popular idols in the Hindu pantheon. It is believed to be an avatar of Lord Shiva. Everybody worship Lord Hanuman as a symbol of physical power, perseverance and devotion. Hanuman has many names called as Hanumat and Pavan-Suta. He is the son of Vayu, the lord of winds and Arijana, the female seduced by Vayu.



Many of Lord Hanuman names can be found in this site detail below. Here is a list of 108 Lord Hanuman names.
108 Names List of Lord Hanuman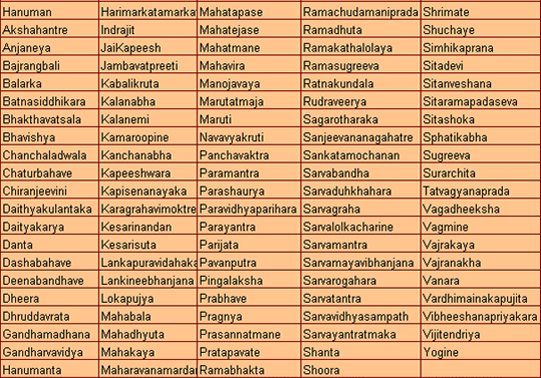 Baby Names, Lucky Number, Vastu tips By Sign (Rashi), Nakshatra Pada, Star, Zodiac Horoscope